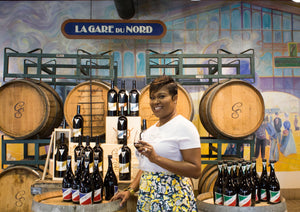 Carla DuPont
Uncorked Wine & Writing: Non-fiction
Regular price
$79.99
$0.00
Unit price
per
June 7-9, 2021, from 8:00 PM to 9:30 PM via zoom.-
Your book is dying inside of you...
…because you have not written it yet!
Finally a foolproof way to write your book and create another stream of revenue.
If you are a coach, consultant, expert, doctor, lawyer, teacher, or any professional looking to catapult their career, increase visibility, enhance their brand with collateral for clientele and put more money in the bank, this Wine & Writing sesh is for you.
This isn't a one-stop-shop-Carla-will-write-my-book-for-me situation. This is a YES-I-WANT-TO-USE-MY-VOICE-TO-EMPOWER-OTHERS LIT-uation.
So if you are ready to stop talking about writing your book…thinking about writing your book…DREAMing about writing your book…and actually write your book, Uncorked Wine & Writing is perfect for you.
WHAT YOU WILL GET...
First, this is dramatically different than one of those free, pre-recorded webinars where they don't give you any real information, but bombard you with emails until you unsubscribe.
If you are ready for…
-          One-on-one coaching
-          Feedback on your writing
-          Writing tips
-          Support from a group of aspiring authors
-          Self-publishing 101
-          Structuring and outlining your message
…in a way that is easy and productive, sign up here to secure your seat TODAY!
This interactive training will show you the proven system you need to go on to write 3, 5, 10, or even 100 more books! The lessons you learn will last you a lifetime!
You will be in an intimate group setting with motivated, like-minded individuals dedicated to getting their brilliant ideas into a good, valuable read.
Your book's content will be completely planned out during the three days of this course!
How exciting!
If you aren't ready to have your book fleshed out over the three day course...no pressure. Download my Bestseller's Kit with a video to get moving in the write direction.
Otherwise, click ADD TO CART and be ready to realize one of your dreams!
Class meets February 9 - 11, 2021, from 8:00 PM to 9:30 PM via zoom. A link and course materials will be emailed to you prior to class beginning.
See ya soon!
---